Product Models
| | | |
| --- | --- | --- |
| ATK | MTK / HTK | UTK |
| | | |
| Platform must be folded one time and then it will be moved 180 degrees to rest on the lifting arms. | This is the simplest model with the lowest weight. The platform is normally one piece but it could be a two piece platform that travels behind the doors. | Completely ready to install, including the sliding cylinder. The installation is very quick like our other new models. If an electrical short occurs, the platform can still be moved, to the travel position, because of the gas cylinder. The power pack is very simple and easy to maintain. |
Perfection in every detail
The new AHT range of liftgates consists of a more cost effective two and three cylinder system compared to the well known 4 cylinder models.
The newest models were designed for small vehicles with a short overhang and low bed height. This also helps to increase the payload of the vehicle.
All new models are completely mounted, adjusted and tested before leaving the factory. The installation is very quick. No welding is required as the mounting brackets simply slide into place. Drill 8 holes and install the bolts.
Weight
Less weight means more payload and more payload means more income. AHT high strength aluminum profiles are extremely light in weight.
Example.: ATK-500ST/AL without underrun beam, ready for work, incl. mounting material: 382 lbs .
Power Pack
Compact design can be mounted on the left or right side of vehicle
Two button remote control for Up and Down operation
Hydraulic system is only used to lift up the platform
Two hand safety control
All-Aluminum Cylinders
Ceramic coated pistons are standard
Extremely long life span
Tested for more than 800 thousand cycles without changing seals
Noiseless operation at all temperature ranges
Resistance against salt water and other aggressive fluids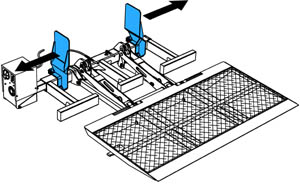 Mounting bracket
The mounting brackets can be moved on the crossbeam of the tailgate loader, so a simple and quick installation without welding is possible.
Long life and low maintenance
Cylindersare equipped with mechanical hose burstvalves to protect the driver and goods during lifting and lowering of the platform.
The platform will stop immediately, if a hose breaks, so the operator will not be injured and the goods are protected.
The 2-button control is equipped with a pull out protector to prevent an electrical short and also to protect the uncontrollable movement of the platform.
Tailgate loader: UTK-750ST/AL
An very short tandem cylinder allows installation even if the vehicle overhang is short.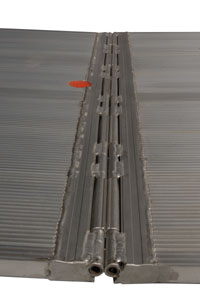 Miscellaneous Items
No electronic parts
All steel parts are powdered coated
One size hydraulic hoses
Chrome plated bolts with DU Bearings
All brackets and screws are made of Stainless Steel
Options
Three button Foot Control
Flashing Lights
Roll Stops
The continous aluminum hinge is guided by a stainless steel rod that has a grease fitting at every section.
ATK-Model
Mechanism
Platform
Capacity
(lbs)
Load Center
(inches)
Platform Size
W x L (inches)
Weight
(lbs)
ATK-500ST/ST
Steel
Steel
1100
20
60 x 37
468
ATK-500ST/AL
Steel
Aluminum
1100
20
60 x 37
382
ATK-500AL/AL
Aluminum
Aluminum
1100
20
60 x 37
298
ATK-750ST/ST
Steel
Steel
1650
20
71 x 37
521
ATK-750ST/AL
Steel
Aluminum
1650
20
71 x 48
448
ATK-750AL/AL
Aluminum
Aluminum
1650
20
71 x 48
320
ATK-1000ST/AL
Steel
Aluminum
2200
20
87 x 46
545
ATK-1000AL/AL
Aluminum
Aluminum
2200
20
87 x 46
404
MTK-Model
Mechanism
Platform
Capacity
(lbs)
Load Center
(inches)
Platform Size
W x L (inches)
Weight
(lbs)
MTK-500ST/M
Steel
Steel Mesh
1100
20
69 x 38
463
MTK-500ST/AL
Steel
Aluminum
1100
20
69 x 38
408
MTK-500AL/AL
Aluminum
Aluminum
1100
20
69 x 38
309
MTK-750ST/M
Steel
Steel Mesh
1650
20
69 x 50
543
MTK-750ST/AL
Steel
Aluminum
1650
20
83 x 50
488
MTK-750AL/AL
Aluminum
Aluminum
1650
20
83 x 50
347
MTK- 1000 ST/M
Steel
Steel Mesh
2200
20
79 x 50
593
MTK-1000ST/AL
Steel
Aluminum
2200
20
79 x 50
523
MTK-1000AL/AL
Aluminum
Aluminum
2200
20
79 x 50
391
UTK-Model
Mechanism
Platform
Capacity
(lbs)
Load centre
(inches)
Platform Size
W x L (inches)
Weight
(lbs)
UTK-500ST/ST
Steel
Steel
1100
20
60 x 37
530
UTK-500ST/AL
Steel
Aluminum
1100
20
60 x 37
474
UTK-500AL/AL
Aluminum
Aluminum
1100
20
60 x 37
386
UTK-750ST/ST
Steel
Steel
1650
20
71 x 37
538
UTK-750ST/AL
Steel
Aluminum
1650
20
71 x 48
503
UTK-750AL/AL
Aluminum
Aluminum
1650
20
71 x 48
448
UTK-1000ST/ST
Steel
Steel
2200
20
87 x 60
748
UTK-1000ST/AL
Steel
Aluminum
2200
20
87 x 60
710
UTK-1000AL/AL
Aluminum
Aluminum
2200
20
87 x 60
607
UTK-1500ST/ST
Steel
Steel
3300
20
87 x 67
1073
UTK-1500ST/AL
Steel
Aluminum
3300
20
87 x 67
1015
UTK-1500AL/A/L
Aluminum
Aluminum
3300
20
87 x 67
732
UTK-2000ST/ST
Steel
Steel
5500
20
87 x 67
1374
UTK-2000ST/AL
Steel
Aluminum
5500
20
87 x 67
1275
UTK-2000AL/AL
Aluminum
Aluminum
5500
20
87 x 67
1026